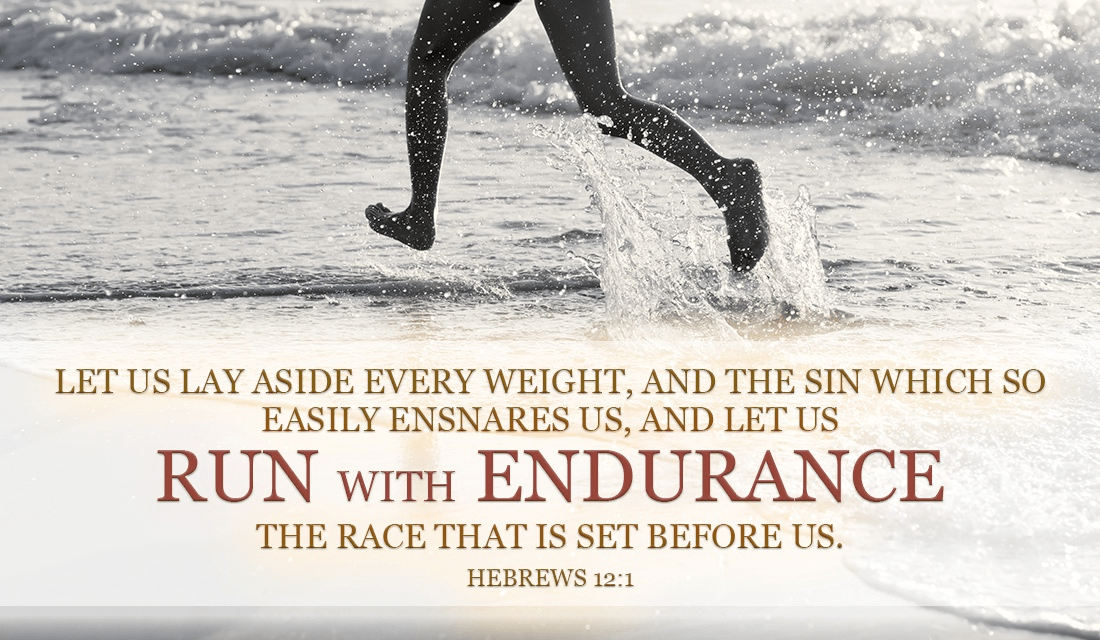 The power of enduring an unpleasant or difficult process or situation without giving way along with the fact that you can read story after story of people in the Bible who faced difficult times and still chose to go forward in the faith, not knowing what the outcome would be, leads us to this week's Blog. Endurance could also be expressed by any of the following:
bearing; tolerance; sufferance;  fortitude; tenacity; patience;  acceptance;  resignation;  stoicism; stamina; staying power;  perseverance;  persistence; determination……
As you can see endurance covers a wide range of emotions but what about endurance from a Biblical point of view?…
Romans 15:4 'Endurance Leads To Hope'  As Christians we must endure in the faith because it strengthens our faith and seeing this it gives hope to those struggling to find the faith and those who want to believe, to have hope.
Galatians 6: 9, 10
 9 Let us not become weary in doing good, for at the proper time we will reap a harvest if we do not give up. 10 Therefore, as we have opportunity, let us do good to all people, especially to those who belong to the family of believers.
If we allow the lower side of us to prevail, so to speak, we can expect to harvest nothing but trouble. If we instead take the good way and do what's right, God will repay, the harvest will be plentiful. We cannot expect there to be no consequences for our sins but God can and does forgive us of our sins. 
Romans 5: 3,4
 3 Not only so, but we also glory in our sufferings, because we know that suffering produces perseverance; 4 perseverance, character; and character, hope.
The word Paul uses for fortitude in these verses means more than just endurance.  It makes a stronger statement that indicates a spirit that does not passively endure  but seeks to overcome the trials and tribulations of life. Paul makes a strong statement to close out these verses, Christian hope is not an illusion. Hope such as this is the result of the believers love of God, it is real and sustaining. Hope such as this is the result of a loving God, with an everlasting love backed by an everlasting power. There is no end to Biblical justification supporting the Power of Endurance…
1 Corinthians 10: 13
13 No temptation has overtaken you except what is common to mankind. And God is faithful; he will not let you be tempted beyond what you can bear. But when you are tempted, he will also provide a way out so that you can endure it. 
I have always believed that life is what it is….Our faith and the God we serve provides us with the means to meet the challenges that we will face in this life. Paul knew life was a chancy business and temptation would surely come our way. The Greek word translated to temptation has a meaning pointing to more of a test and is meant to not make us fall but to test us. With God's help we will emerge from it stronger than ever. Temptation is not unique for any individual, it comes to all of us from time to time but we must remember others have endured it and come through it. Keep in mind as we are going through it so have others and through the grace of God they have endured and conquered. For the Christian there is no temptation that God cannot provide a way out of. It is not the way of surrender or retreat. It is the way of conquest in the power and grace of God.
Revelation 3: 10
10 Since you have kept my command to endure patiently, I will also keep you from the hour of trial that is going to come on the whole world to test the inhabitants of the earth.
We find here in Revelations an old Jewish belief. The Jews divided time into two ages. The present age, which was totally bad and the age to come which was totally good. In-between those two would be a time of destruction and the wrath and judgement of God would come upon this world we now live in. John referred to that terrible time but we as those of the faith can be assured that when this world as we know it comes to an end, those who are faithful to Christ will still be safe in his keeping. 
The link below will give you a number of scriptures that refer to endurance in Bible readings.
https://www.openbible.info/topics/endurance
Keep the Faith, Endure…
Life is Good
jk